101 Dalmations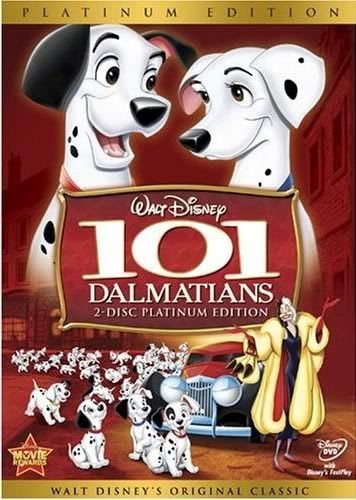 Digitally enhanced for DVD, this special edition of the classic Walt Disney animated movie features a bevy of brave animals... my favorite is the plucky cat, Sgt Tibbs... coming to the rescue of dozens of dalmation pups stolen by two nasty but comically inept employees of Disney's most notorious queen of mean, Cruella De Vil. 101 Dalmations is an adventure with a touch of romance - both human and canine - that the whole family will enjoy :-)


Special Platinum Edition DVD Features
Disney's Virtual Dalmatians: Adopt, name, train and care for your very own virtual puppy where there are over 101 possibilities.

Puppy Profiler: Find out which dog you're most like!

101 Pop-Up Trivia Facts For The Family & Collector: Discover 202 amazing things You Never Knew about the movie as you watch it - with 101 pop up facts for the family and 101 for the collector

All-New "Cruella De Vil" Music Video: The classic song "Cruella De Vil" gets a contemporary twist when multitalented teen Disney Channel star Selena Gomez performs the song in a brand new video!

Redefining The Line: The Making Of 101 Dalmatians

101 Dalmatians is considered by critics to be one of the best and most innovative Disney animated films. Go behind the scenes with its creators to find out about everything - including the technological innovation of the Xerox process in animation.

Cruella De Vil: Drawn To Be Bad: Inspired by flamboyant actress Tallulah Bankhead, Cruella De Vil has become a villain that movie fans love to hate. Marc Davis, an animation legend and one of Disney's immortal "Nine Old Men" reveals how this iconic character came to be.





Cruella De Vil, Cruella De Vil
If she doesn't scare you No evil thing will
To see her is to Take a sudden chill
Cruella, Cruella De Vil

The curl of her lips The ice in her stare
All innocent children Had better beware
She's like a spider waiting For the kill
Look out for Cruella De Vil

At first you think Cruella is the devil
But after time has worn Away the shock
You come to realize You've seen her kind of eyes
Watching you from underneath A rock!

This vampire bat This inhuman beast
She ought to be locked up And never released
The world was such A wholesome place until
Cruella, Cruella De Vil ~ lyrics by Mel Levin




"101 Dalmations" movie, DVD, video clip & screen shots copyright Walt Disney Studios, used with permission