The Meditative Cat's Guide to
Helping Our Animal Friends
and making this world a more purrrrfect place


In a civilized world, the welfare of animals is a responsibility of humans.
Click on one of these banners or links and do what you can do.
Help prevent animal overpopulation - please spay or neuter your pet.

Looking for a new furry family member? Consider adopting from a shelter.
That's where Mom and Dad found me and look how cute I turned out :-)
WINGING CAT RESCUE
Their mission is to rescue felines from Death Row, place them in foster care, and ultimately find compassionate caretakers to adopt as many as possible. They are a nationwide licensed rescue organization currently focusing on (but not exlusive to) an Animal Control Pound in Griffin, Georgia in the U.S. This pound uses inhumane gas chambers as their method of "euthanasia" and this wonderful organization is determined to save as many catz as they can. They rely solely on private donations. Since October 2006 they have saved over 1600 cats and kittens, largely with the help of compassionate online animal lovers who donate money and/or crosspost Winging Cat Rescue's bulletins on their personal websites, MySpace pages or Care2 forums. You can view some pictures of cats they've saved here.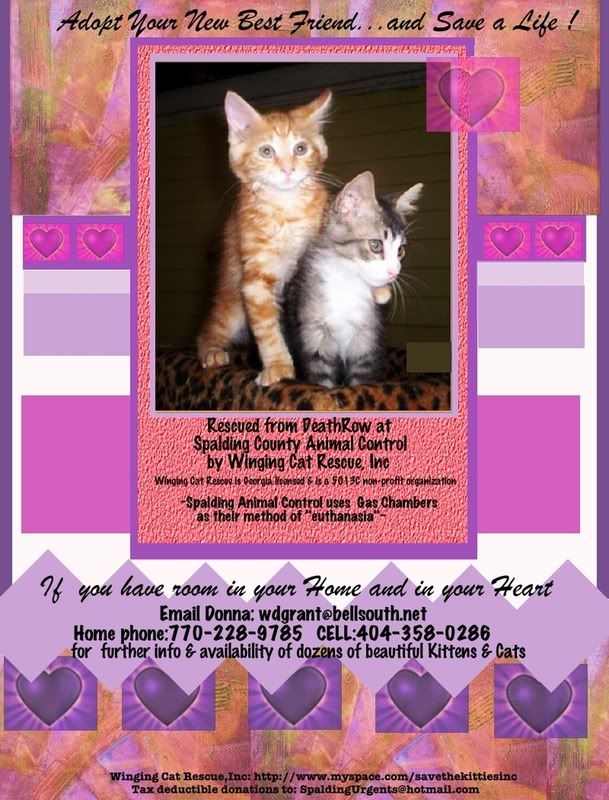 Calendars, holiday cards and more are now available at Cafe Press.
All the photographic subjects are cats & kittens who have been saved by this wonderful organization with the help of generous people like you.
All proceeds from the sale of Cafe Press items will go to purchase Medicine and vax and for spay/neuter vouchers.

Supporters of Winging Cat Rescue
is a group that has been created on the care2 site to help spread the word about this wonderful organization and to help them to help these and so many other deserving cats. It's free to join and you'll be able to talk to other cat-loving members and get updates about WCR's cats in need and cats that have been saved too. If you're a Care2 member, please join us!



Say NO to cruel fashion!

Wearing fur or fur trim is cruel and unnecessary. Whether caught in steel traps in the wild or anally electrocuted after life in a cage on a fur farm, these animals suffer immensely. When compassionate consumers like you take a stand against the fur industry by refusing to purchase its products, designers will stop using fur, retailers will stop selling it, and fashion writers will stop reporting on it as an acceptable trend. You have that power with every purchase you make.

Thank you to designers Stella McCartney, Marc Bouwer, Jay McCarroll and the Ralph Lauren, H&M and Zara companies for pledging not to use real animal fur in their collections! Let's encourage others to follow their humane example!




Visit my new
page
If you care about animal welfare, endangered species and protecting the environment, and if you believe individuals have the power to change the world, you'll going to love Care2. With more than 5 million members, Care2 is the largest online community for people who want to make a difference. Check it out! And if you're already Care2 member and would like to link pages, send me a message :-)


Click on the paws to learn more about these important issues:


Feed a shelter animal for free!
~some other pages devoted to animal welfare~